Bandai Cards has announced the first and only Official Power Rangers Action Card Game Championship for the upcoming Power Morphicon event!  This event is managed by Andy, the designer behind the Power Rangers card game.  Sign up for the event at Facebook!
The Official Power Morphicon Convention is the place to be to experience all things Power Rangers!  And we are excited to host our 1st Official Power Rangers Action Card Game Tournament at this year's convention so let's make it big by making it a Championship!
This event is free for all those attending Power Morphicon, and all you need is your own deck of 30 Power Rangers ACG cards and dice, Deluxe Gosei Morpher, or Smart Phone with the Power Rangers Card Scanner App.
You may use any cards from Series 1-5 as well as any Power Rangers ACG promo cards ever released.  Don't have a deck? Take a free game demo running throughout that Sunday.
But what's a Championship without prizing! Up for stakes are Complete Sets of Series 5 previously only available in Europe as well as promo cards and much more!
Power Morphicon 2014
Power Morphicon is one event that you don't want to miss.  100+ cast and crew members are confirmed for the event.  PMC celebrates its fourth convention with plenty of surprises.  You can register for Power Morphicon 2014 at their Official Site. The convention will take place on August 22-24, 2014 at the Pasadena Convention Center.
Keepers of Peace
Bandai Cards uploaded an image with the Keepers of Peace (hinted as KoP earlier this year).  Series 6 "Keepers of Peace" was planned and developed for this year, but Power Rangers Action Card Game has officially ended with the EU release of the Series 5 cards.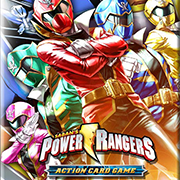 Check out the Power Rangers Action Card Game 5 images at RangerCrew Blog.  For more information on the Action Card Game, check out the Cards page on Megaforce Cast.
For the latest information on Power Rangers Megaforce and Power Rangers Super Megaforce, check out our site Megaforce Cast, follow us on Twitter at @rangercrew, and like us on Facebook. Discuss Power Rangers Megaforce at RangerCrew.