Power Rangers Action Card Game Set 5 is the largest Booster Set with 183 cards (91 commons, 61 rares, 22 super rares, and 9 ultra rares).  The set is inspired by Magic the Gathering Core Set with the usage of new and popular past cards that are reprinted with new numbers and foils.  With Set 5, you can unlock every phrase from the Gosei Morpher!  With 180+ cards, this collector set will have several of the fan-requested Megazord and Ranger cards.  Power Rangers Super Megaforce cards are not included in this set.
You can see the updated card list on Megaforce Cast.
Previews
The following preview images are from the EU version.
Power Rangers Zeo
Power Rangers Turbo
Power Rangers Lost Galaxy
Power Rangers Lightspeed Rescue
Power Rangers Mystic Force
Power Rangers Operation Overdrive
Power Rangers Jungle Fury
EU Version
Series 5 released in France this week.  The EU version has old numbering on the reprints.  The new Overdrive Cards have the "Powered Up" phrases for the Gosei Morpher.
Rhino Ranger (new art)
Blue Overdrive Ranger (Defender Vest)
Black Overdrive Ranger (Defender Vest)
Yellow Overdrive Ranger
Pink Overdrive Ranger
Mercury Ranger (new art)
Lightspeed Megazord
Red Armored Power Ranger
Defender Torozord
Turbo Megazord
Zeo Megazord
Reprints
Here are the number of reprints per series.  Reprinted cards will have new numbering to reflect the new card position in Series 5.  Many of the reprinted cards have new foiling.  You can view the complete Reprint List with rarity changes on Megaforce Cast.
Rise of Heroes – 16
Guardians of Justice – 36
Universe of Hope – 67
Legends Unite – 47
Ultra Rare Reprints
Power Rangers Action Card Game Series 5 has 9 reprinted Ultra Rares.  A few of these were original Ultra Rares and the rest are upgraded from Super Rares.
1-080 White Mighty Morphin Ranger
3-080 Zeo Power Rangers
3-090 Lord Zedd
4-058 Omega Ranger
4-076 Time Force Power Rangers
4-080 Titanium Ranger
4-081 Lightspeed Rescue Power Rangers
4-084 Lost Galaxy Power Rangers
4-088 Space Power Rangers
Interview
We had a great chat with Andy at Bandai Cards about the upcoming collector set on RangerCrew.  Check out the interview for more details on Series 5.
Series 6: Keepers of Peace
Keepers of Peace is the name for Power Rangers Action Card Game Series 6.  KoP will be the first set featuring Power Rangers Super Megaforce.  The title is a playful name inspired by Ranger Keys. At this time, there is no confirmation on whether Series 6 will release after the Series 5 release in Europe.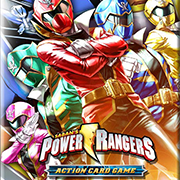 Power Rangers Action Card Game
Follow @PowerRangerACG and like them at Facebook for the latest updates on the Power Rangers Action Card Game. For more information on the Action Card Game, check out the Cards page on Megaforce Cast.
For the latest information on Power Rangers Megaforce, check out our site at MegaforceCast.COM, follow us on Twitter at @rangercrew, and like us on Facebook. Discuss Power Rangers Megaforce at RangerCrew.